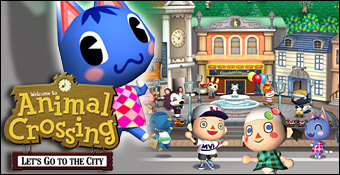 Voici un jeu pour moi qui à été un coup de coeur, que beaucoup de personne ont négligés. Je parle bien entendu d'Animal Crossing : Let's go to the city !
Origine :
Le premier jeu de la série d'Animal Crossing est sortie sur Nintendo GameCube sous le nom d'Animal Crossing qui a été créé par Katsuya Eguchi.Il y a eu après un épisode Nintendo DS, Animal Crossing : Wild World, sortit le 31 mars 2006. Et maintenant on se retrouve avec un nouvel épidode sur la Wii !
Concept :
Pour ceux qui ne connaiserais pas encore Animal Crossing, c'est un jeu Gestion/Simulation de vie au design bien particulier. Vous évoluez dans une petite ville qui a comme habitant des animaux à qui vous devez parler, rendre des services, ect... Bien sûr, vous avez une petite maison que vous devez remboursez au propriétaire de la boutique du village. Mais vous inquietez pas, vous avez le temps, c'est à vous de choisir ce que vous voulez ! Vous pouvez donc allez pêcher, rendre une petite visite à un habitant, allez au musée et faire des dons, décorer votre maison et encore plein de chose !
Les nouveautés :
Les nouveautés dans cet opus sont peu nombreuses. Donc voici la grosse nouveauté du titre : la ville ! Celle-ci est une grande place(pas si grande que ça...) avec pleins de magasins. Vous pouvez vous faire cirer vos chaussures(qui ne sert strictement à rien), aller au Galerie Carla(un magasin avec des objets hors de prix), vous faire couper les cheveux, ect... On retrouvera certains personnages itinérants de la version DS comme Lionel(qui s'occupait de l'assurance), le dr. Ciboulot(qui vous apprennait des émotions) et encore beaucoup d'autres. Sinon, rien de spécial à part quelques nouveaux habitants, objets, accessoires ou autres...
Le Wii Speak :
Le Wii Speak est un petit micro que l'on positionne sur la télévision ou sur le capteur. Il servira à communiquer avec 2 à 4 Wii connectés à Internet. Dans le jeu Animal Crossing : Let's go to the city, vous pourez dialoguer avec vos amis jusqu'à 4 joueurs simultalement dans votre village ou celui de votre votre ami.
Attention ! Vous n'êtes pas obligé d'acheter le Wii Speak avec le jeu. Vous pouvez acheter seulement le jeu Animal Crossing : Let's go to the city. Achetez juste le Wii Speak si vous disposez un connexion Internet Haut-Débit.
En bref :
Un très bon jeu pour ceux qui n'auraient pas joués aux opus précèdents, Par contre, si vous disposez le jeu Animal Crossing : Wild World, vous pourrez reprendre les donnés du jeu pour continuer l'aventure sur Wii !(Votre personnage ainsi que votre catalogue d'objet) Dommage qu'il y ait très peu de nouveautés ne serai-ce que le centre-ville, les objets et les habitants.
Note :
7/10
Nekko